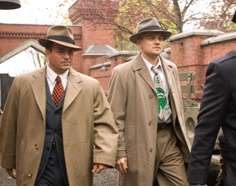 Scene From Shutter Island
Digital News Report – Last Night film director Martin Scorsese accepted the Cecil B. DeMille Award at the Golden Globe Awards. The director, screenwriter, producer and actor said he wished he could write music but he can't. Scorsese joked and went on to say he would continue to make movies.
Last night there was a lot of talk about "Shutter Island" (see video below), a Martin Scorsese film staring Leonardo DiCaprio as U.S. Marshal Teddy Daniels.
In 1954 the Marshal and his assistant are sent to a hospital for the criminally insane on an island off the coast of Massachusetts to investigate a report of an escaped prisoner.
The plot thickens when a hurricane hits the island and a prison riot ensues.
The movie was supposed to be released last year but was held off until February 19, 2010.
By: Jael Kirk