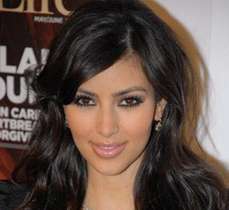 Kim Kardashian – photo courtesy: Luke Ford
Digital News Report – Reggie Bush and Kim Kardashian came a step closer today to getting married, if you believe the rumors.
Reggie Bush II, who plays for the New Orleans Saints, is rumored to have made a bet with girlfriend Kim Kardashian. If the Saints win the Superbowl this year, he will marry the reality TV star.
Kim Kardashian can be seen on the television show, "Keeping up with the Kardashians" Sunday nights on the E! Channel (see video below).
Bush is a running back for the Saints, but also ran for the USC (University of Southern California) football team. At USC he was an MVP and finished fifth in the voting for the Heisman Trophy in 2004.
The Saints beat the Arizona Cardinals 45 – 14 today.
Next week the Saints will play the winner of tomorrow's game between the Minnesota Vikings and Dallas Cowboys. The winner of next week's game will go to Miami Stadium on February 7th for the Superbowl.
By: Jael Kirk