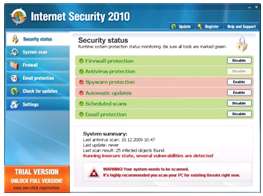 Internet Security 2010 Virus
Digital News Report – Every year fraudulent websites trick users into thinking they have viruses and other malware on their computer, and then convince them to buy their virus removal software. The year 2010 is shaping up to be the same.
This year the first reported scam is called "Internet Security 2010". The malicious website displays a fake claim that your computer is infected and coerces the user into purchasing and using the software. Once the user does that they are annoyed with pop-ups and fake alerts.
Since the virus is new, there has been confusion on how to get rid of it.
Here is how to get rid of it:
Restart your computer and hit F8 once it begins the booting process. Keep hitting F8 until you see a menu.
Select run Windows in Safe Mode with Networking from the menu.
There are various software programs you can use to get rid of this virus. Here are a couple companies that claim they can remove the threat:
1) Malwarebytes
2) Spyware Doctor
Go ahead and download the program and install it. You will need to run it in safe mode to permanently remove the Internet Security 2010 malware.
Good luck.
By: Sam Lee