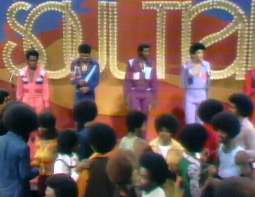 See the videos below
Digital News Report – Legendary R&B singer and songwriter, Teddy Pendergrass died yesterday from complications of colon cancer. The 59 year-old Pendergrass became famous as singer of Harold Melvin & the Blue Notes in the 1970s (see discography below).
Pendergrass began his career as a drummer for The Cadillacs. With Harold Melvin and the Blue Notes, his legendary voice made him a star with hits like "I miss you" and "If You Don't Know Me By Now" (see videos below).
In 1977 he struck-out on his own with the solo album titled "Teddy Pendergrass". In 1978 he released the album "Song Worth Singing" and in 1979 "Live Coast to Coast and "Teddy". He also released a solo album in 1981, "It's Time for Love".
In 1982 he was involved in an auto accident that paralyzed him from waist down. After that he recorded some more and left the business in 2006.
His later records / songs include: This One's for You, Heaven Only Knows, One Shining Moment, Love Language.
In 1988 he released an autobiography titled: Truly Blessed.
By: Jael Kirk
| | | | |
| --- | --- | --- | --- |
| Year | Album | US Pop | US R&B |
| 1977 | Teddy Pendergrass (Philadelphia International) | 17 | 5 |
| 1978 | Life Is a Song Worth Singing (Philadelphia International) | 11 | 1 |
| 1979 | Teddy (Philadelphia International) | 5 | 1 |
| 1979 | Live! Coast to Coast (Philadelphia International) | 33 | 5 |
| 1980 | TP (Philadelphia International) | 14 | 3 |
| 1981 | It's Time for Love (Philadelphia International) | 19 | 6 |
| 1982 | This One's for You (Philadelphia International) | 59 | 6 |
| 1983 | Heaven Only Knows (Philadelphia International) | 123 | 9 |
| 1984 | Love Language (Asylum) | 38 | 4 |
| 1985 | Greatest Hits (Philadelphia International) | na | 65 |
| 1985 | Workin' It Back (Asylum) | 96 | 6 |
| 1988 | Joy (Elektra) | 54 | 2 |
| 1991 | Truly Blessed (Elektra) | 49 | 4 |
| 1993 | A Little More Magic (Elektra) | 92 | 13 |
| 1997 | You and I (Surefire) | 137 | 24 |
| 1998 | The Best of Teddy Pendergrass (The Right Stuff) | na | |
| 1998 | This Christmas I'd Rather Have Love (Surefire/Wind-Up) | na | 83 |
| 2001 | Greatest Slow Jams (The Right Stuff) | na | 98 |
| 2002 | From Teddy with Love (Razor & Tie) | na | 63 |
| 2004 | Love Songs Collection (The Right Stuff) | na | 69 |