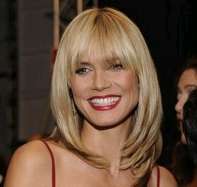 Heiki Klum – courtesy: cc
Digital News Report – Although "Project Runway" premiers tonight from New York City, host Heidi Klum says the show will likely head back to Los Angeles again. But the model / actress is not that excited about the change.
She told Billy Bush with Access Hollywood that she likes to change things up, but "We kind of all move to New York. It's fun. We all have this big hotel room. The children love New York… New York is exciting!"
She is still bouncing back after giving birth to daughter Lou. She tells InSthyle magazine "You don't walk out of the hospital and get right back into your 27s." When asked about breast feeding she said "My boobs are on a schedule!"
When asked about her husband (Seal), she said "Seal still says beautiful things to me after all these years. I couldn't be more excited when he comes home."
Promoting the seventh season of "Project Runway, she appeared on the Jay Leno Show wearing a micro-mini dress. That was a crowd pleaser.
By: Jael Kirk