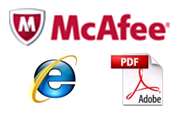 Digital News Report
Digital News Report – Microsoft has issued an advisory concerning a vulnerability in their browser. The problem, Microsoft Security Advisory (979352), appears to be broad affecting many versions of their Internet Explorer.
In a statement, Microsoft said: "Our investigation so far has shown that Internet Explorer 5.01 Service Pack 4 on Microsoft Windows 2000 Service Pack 4 is not affected, and that Internet Explorer 6 Service Pack 1 on Microsoft Windows 2000 Service Pack 4, and Internet Explorer 6, Internet Explorer 7 and Internet Explorer 8 on supported editions of Windows XP, Windows Server 2003, Windows Vista, Windows Server 2008, Windows 7, and Windows Server 2008 R2 are affected."
Initially it was thought that this vulnerability and the recent attack on Google's G-mail users were not related. But reports suggest that this may not be true.
According to the Tech Herald, many companies and law enforcement agencies were affected by this. Adobe has linked the attack on Google with this vulnerability.
But McAfee says that is not the case. In fact, McAfee say they believe it is "a vulnerability in Adobe Reader being a factor in these attacks."
By: Sam Lee