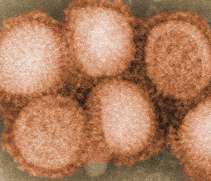 H1N1
Digital News Report – While the number of swine-flu cases has been leveling-off, some health care officials are worried that the virus is poised for a third wave. There were no deaths from the H1N1 in Nevada last week, but officials in San Antonio Texas say they expect a third wave.
The vaccine is readily available, but few people are taking advantage of the opportunity to get vaccinated. Officials in San Antonio are warning citizens to not be "complacent".
The San Antonio Express reports that Metropolitan Health District officials have seen a rise in patients with respiratory illness. Since H1N1 has been the most the most prevalent type of flu they expect most of the new samples to test positive for the disease.
"We might be seeing the early stage of what might be a third wave" of swine flu, Dr. Bryan Alsip said. "We'll know for certain whether they are new cases of flu or RSV (the common respiratory syncytial virus) or something else … probably by the end of the week."
By: Jason Chang