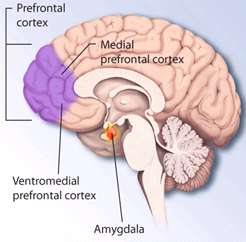 Brain structures involved in dealing with stress and fear
Digital News Report – Quick action by first responders in the war zone and a shot of morphine may help injured soldiers cope with stress later on.
The research, which appears in the New England Journal of Medicine (NEJM), found that of 696 soldiers injured in Iraq from 2004 to 2006, those who were administered morphine within an hour after being wounded were less likely to develop Post Traumatic Stress Disorder (PTSD).
Most wounded soldiers in the study, 61 percent, developed PTSD, but 76 percent of those who did not were given morphine. Interestingly, this did not depend on the severity of the injury.
Symptoms of PTSD include
1) Re-experiencing the original trauma, by means of flashbacks or nightmares
2) Avoidance of stimuli associated with the trauma
3) Increased arousal, such as difficulty falling or staying asleep, anger, and hypervigilance.
By: Jason Chang