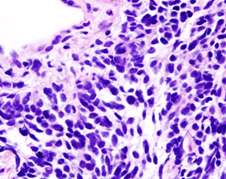 Small cell lung carcinoma – cc
Digital News Report – In the future, perhaps a simple blood test may be used to diagnose lung cancer and a breath test can determine the type. These findings were discussed as scientists shared knowledge at the Joint Conference on Molecular Origins of Lung Cancer in Coronado California on Wednesday.
These two lung cancer tests may be available in the future. The first is a blood test to determine if a patient has lung cancer.
About one in five chest x-rays shows a nodule of "indeterminate significance." Steven Dubinett, MD, professor of medicine and pathology and director of the UCLA Lung Cancer Research Program said "Currently, 20% to 25% of surgeries done for suspected lung cancer turn out to be benign diagnoses."
Researchers at UCLA believe that this simple test could spare patients needless biopsies.
Scientists at the University of Colorado Cancer Center in Aurora say they believe that someday a breath test may distinguish between small cell and non-small cell histology.
The Colorado researchers are analyzing clusters of volatile compounds from exhaled air. From these clusters they believe they can differentiate the type of cancer.
By: Jason Chang